More info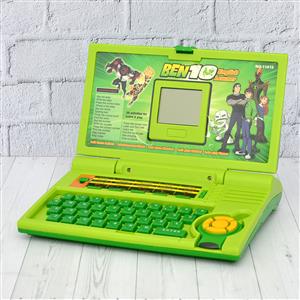 Increase baby's creativity & self-expression!
Features:
Ben 10 english learner laptop
20 Activities for learn & play
Lets learn letters
Lets learn some words
Lets learn number
Lets play melody
Lets play games
Say the letter
write the letter
press the correct letter
where is the letter
say the words
spelling test
Press the correct word
find the word
say the number
write the number
press the correct number
find the number
Play melody
play notes
press the correct note
listen and find note
catch me
find the match pair
Star shooting
draw a picture
Specifications colours and contents may vary from illustrations
A computer to teach your kids english, maths memory power,
time, music and play. Includes voice sounds.
Eye catching animation amusing sound effects player games friendly voice.
3"Aaa"batteries required (not included) model may vary , but features will remain the same.